CSP type single-phase transformer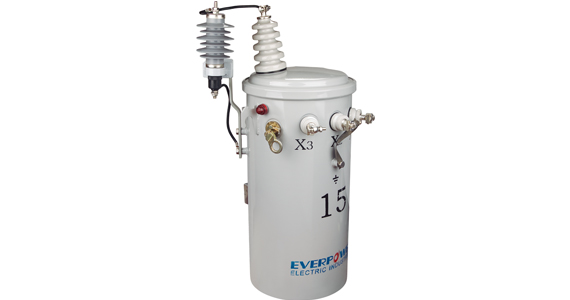 Everpower Completely Self Protected Transformers (CSP) offer a complete and safe solution to protects the transformer from lightning, secondary faults, severe overloads, and provides visual early warning of an overload
Technical specification
GENERAL TECHNICAL INFORMATION
Power Range kVA: 3. 5, 10, 15, 25, 37, 50, 75, 100, 167, 250, 333, 500
Temperature Rise: 55°C or 65°C
Cooling type : ONAN, OA,
Frequency: 50Hz or 60Hz
Polarity : Additive or Subtractive
Primary Voltage : 2400V through 34500 GrdY / 19920V
Secondary Voltage : 120 / 240V, 240 / 480 V, 277V, 600V
Insulation Class : 2.4Kv~34.5kV (150kV BIL) and below
Taps: none, or as an option, 4 x 2,5% HV
HV Bushings: cover and sidewall mounted available
STANDARD FEATURES
−−Core and coils designed for an optimum Total Ownership Cost (TOC)
−−Wound core with step-lap joints for increased efficiency and lower noise levels
−−"Low-high-low" windings for increased short circuit strength, efficiency and thermal strength
−−"Low-high-low" windings for increased short circuit strength, efficiency and thermal strength
−−Computer aided design for mechanical & electrical calculations (C.A.D.)
−−Paint system meeting or exceeding the performance of the IEEE C57.12.28 Standard
−−Lifting lugs meeting all of the requirements of the CSA C2.1-06 and CSA C2.2-06 Standard
−−Multiple cover clamps to ensure proper sealing and to mini-mize water retention on the cover edge
−−Cover or sidewall mounted high voltage bushing(s) as required
−−Low voltage spade or clamp type (basket) terminals as required
−−Provision for surge arrester bracket, bracket available as an option
−−Automatic self-resealing pressure relief valve
OPTIONAL PRODUCT ACCESSORIES
Cold-Rolled Grain Oriented Silicon Steel Core (CRGO) or Amorphous Metal Core (AMDT)
Stainless Steel Tanks and Cover
Extra Creep Bushing
Surge Arrester Bracket
The CSP protection package consists of four related components: H.V Fuse Link, Secondary Breaker, Signal light, External Surge Arrester that work together to provide complete self-contained protection against surge currents, short circuits and overloads.
Units can be customized to specific requirements
KVA
H.V.
Taps
L.V.
loss(W)
DIMENSION(mm)
E
Weight(kg)
Oil Qty(kg)
NO-LOAD
FULL-LOAD
A
B
C
D
10
34500/19920 or 33000/19100
±2×2.5% or 0
120 240 277 480 or 120-240 240-480
45
150
850
500
567
380
286 591 610
100
30
15
60
220
1100
505
575
380
135
44
25
85
285
1220
545
620
420
200
54
37.5
110
395
1250
585
660
460
250
66
50
140
515
1285
635
710
510
340
80
75
180
725
1320
660
730
510
360
90
100
235
905
1355
720
780
560
410
100
167
310
1250
1456
800
848
560
570
130
250
420
1600
1518
880
908
620
815
180
333
530
2150
1550
1020
1018
680
870
210
Standards
IEEE C57.12.00,
ANSI C 57.12.20
IEC 60076
Certificate
ISO 9001
ISO 14001

Features and benefits
• High voltage surge arrester
• Primary protective link.
• Secondary circuit breaker
• Secondary breaker operating handle with emergency overload reset and overload signal light.
• 18 months standard warranty
• After sales maintenance and spare parts service
CSP is cheaper:
Conventional transformers with external cutout fuse and lighting arresters might first appear to be a less expensive, but when you add up the substantial extra costs of cutout fuses, longer installation time, increased outage down time, and time lost repairing and replacing damaged equipment, and so on, conventional transformers just cannot compete with CSP!
CSP is safer:
Completely self-protected transformers are safer by design. Along with internal installation that offers superior protection against animal intrusion, CSP offer the solutions to common problems.
Application
Urban and rural electrification
Public utilities
Highly polluted and hazardous conditions
Learn More...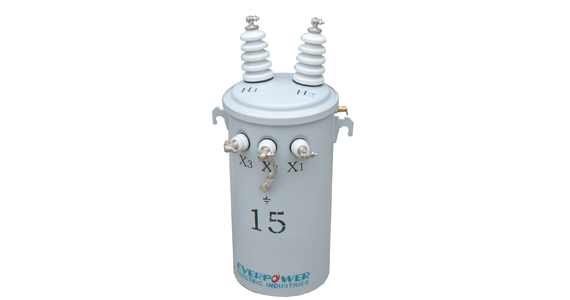 Single phase pole-mounted transformer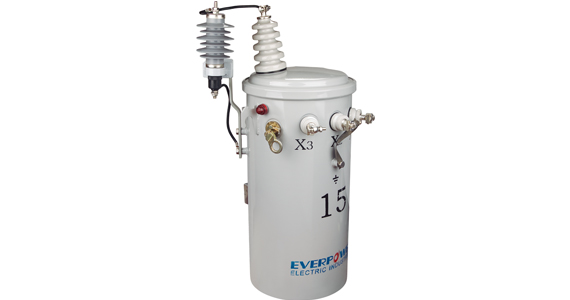 CSP type single-phase transformer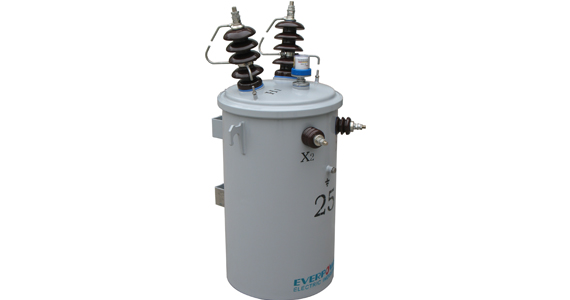 11KV IEC pole mounted transformers